Selective History: Beginnings
Summer's guests, there, came to see, brook and caves, and questioned me; Gave me coins, and sometimes gum (pennies were the average sum)
In that home at dirt road's end
Uncle Jim was my best friend;
Annie too, was good to me
There I was, when I was 3
-from "Lydie's Lines of Yesteryear"
Annie and Jim Van Benthuysen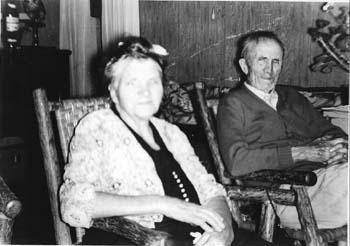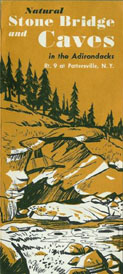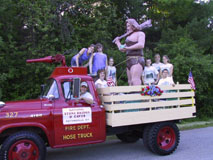 Fourth of July fun with the Caveman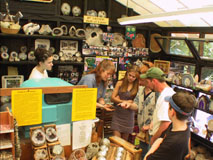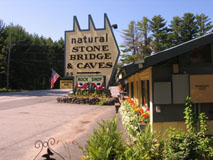 Gems, geodes and fossils for sale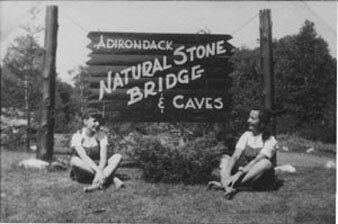 Natural Stone Bridge and Caves became a corporation under the leadership of Lydia Neubuck (right) in the early 1950's. She started a family tradition: early morning showers under waterfalls upstream Trout Brook.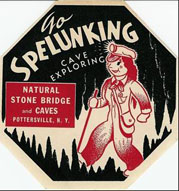 Brother Dave: Lydia's "Shower"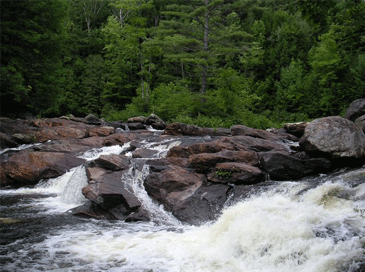 The land originally belonged to the Van Benthuysen's, relatives of my Latvian-born grandmother, Elfrieda Heldt. Fondly known as Uncle Jim and Aunt Annie, Jim was descendent of Jacob Van Benthuysen, who received the site for Revolutionary War service in the late 1700's. By the time it was accessible by road in the popular vacationing destination of the Adirondacks, people were stopping by for a picnic or a swim at the natural scenic wonder.
Starting in 1929, a barefoot little girl took visitors on impromptu tours. This girl was Elfrieda's daughter Lydia. By 1944 she was an avid spelunker with a keen business sense. Lydia and her mother bought the 300 acre property. They developed a trail system with steps and catwalks and then added picnic tables and a parking lot. Her brothers, Don and (my Dad) Dave built projects like a gift shop and a road sign.
In 1970, youngest sister Jenny and her husband Ed Beckler took over the operation and ran it for 33 years. They made several improvements, including a rock shop with specimens from all over the world and a road side cafe'. Today their son Greg and wife Dee and children are the hosts at Natural Stone Bridge and Caves.
First gift shop and parking lot-mid 1950's