Tour
SUMMER SELF-GUIDED EXPLORATION TOURS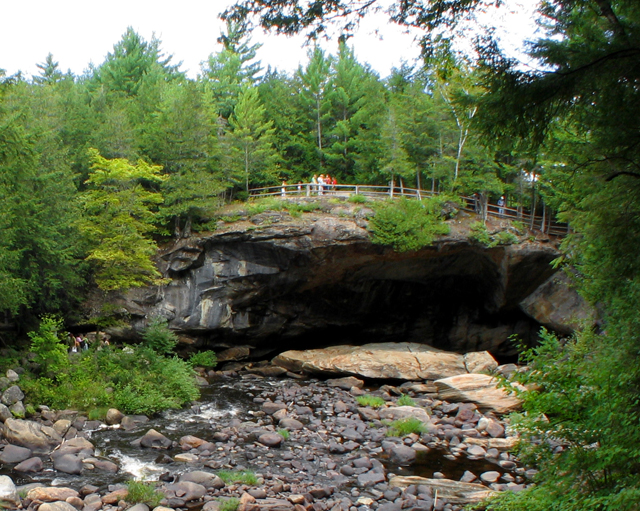 The massive stone bridge arch - the LARGEST marble cave entrance in the east - dominates this spectacular display of Adirondack geology.
Originally named Puente de Dios (Bridge of God) by early explorers, the stone bridge has captivated visitors for over 200 years.
Jacob Van Benthuysen, ancestor of the current owners, received the site in the 1700's for Revolutionary War service and developed a logging and mill operation. Guests can still visit the sawmill site today.
These caves represent an extraordinarily unusual feature of Adirondack geology originally described in "Morse's Geography of 1790". Go here for additional references.
Unlike slow forming limestone caverns, these marble caves formed rapidly during the last ice age by an unusual East-West trending fault exposing a layer of ancient marble to raging acidic floodwaters from the melting glaciers.
Bring good rubber-soled enclosed walking shoes to explore the self-guided, ¾ mile, mostly above-ground, natural stone step nature trail and experience up-close the unique marble features including potholes, grottos, gorge and mill site waterfalls.
Not accessible by stroller, bring backpack carrier for little ones.
Descend into lighted surface caves with raging waterfalls or tranquil dark pools.
Go at your own rate and take the opportunity to stop and enjoy the scenery on benches along the walk.
The tour and map are number coded.
Plan on over an hour for the tour.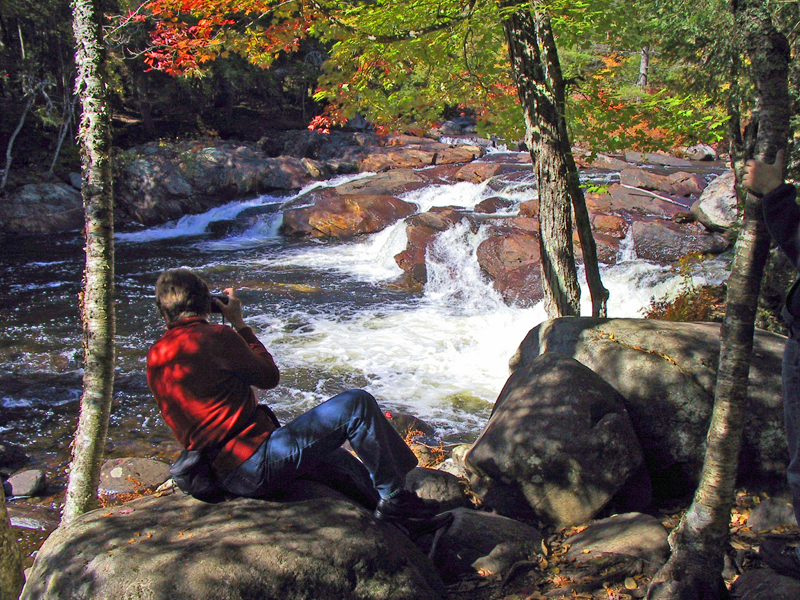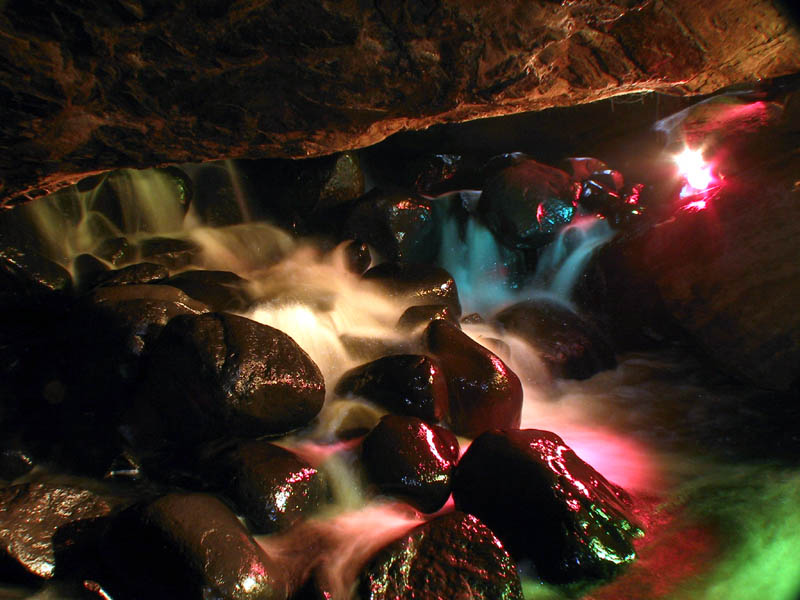 Tour Health Restrictions:
Natural stone steps make it impossible for strollers and not advisable for anyone with a health problem that prohibits climbing up/down uneven steps.
Several activities are available for those who cannot do our tour, including: rock & mineral shop, 30min PBS video entitled "Under the Adirondacks" and an Adirondack Memories Museum.
A complete list of additional activities is located in the Park Activities.
Fishing is not allowed, but special fish food can be purchased to feed trout in the fishpond.
Due to the nature of the confined spaces and walkways, Therapy Dogs and Emotional Support Animals are NOT ALLOWED on the tour or in the buildings.

Only Service Animals

are allowed on the tour and throughout the park facilities.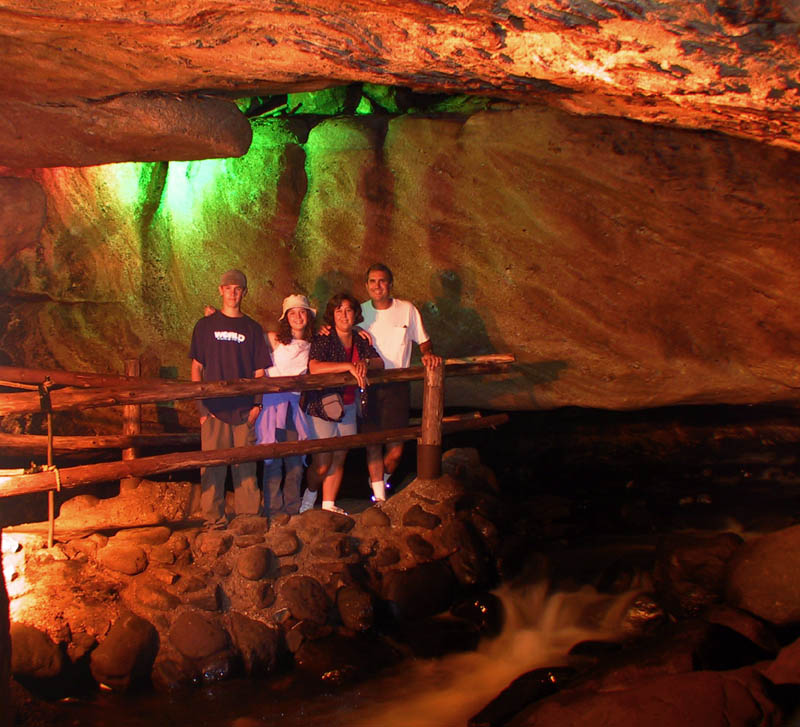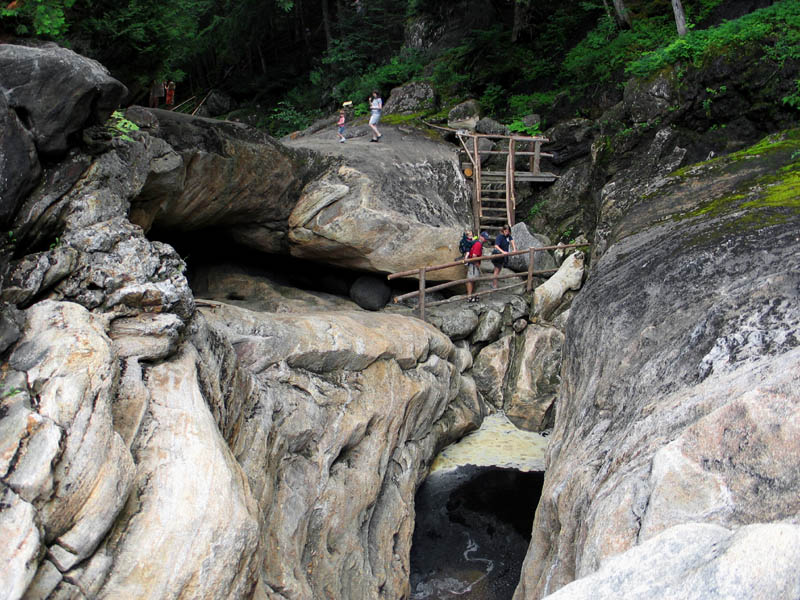 Summer Adventure Tour
Adventure Tours are available July-Aug only, see the calendar link for availability
Explore additional caves - crawl and get dirty
Tour highlights a cave float
Includes: complete caving suit, helmet, light, elbow/knee pads, groves, shoes and floatation vest.
Tours ~ 3 hours, led by trained guides by reservation only
Tour size limited to 4-10 participants ages 13 and older.
---
Winter Tours Of the Stone Bridge & Area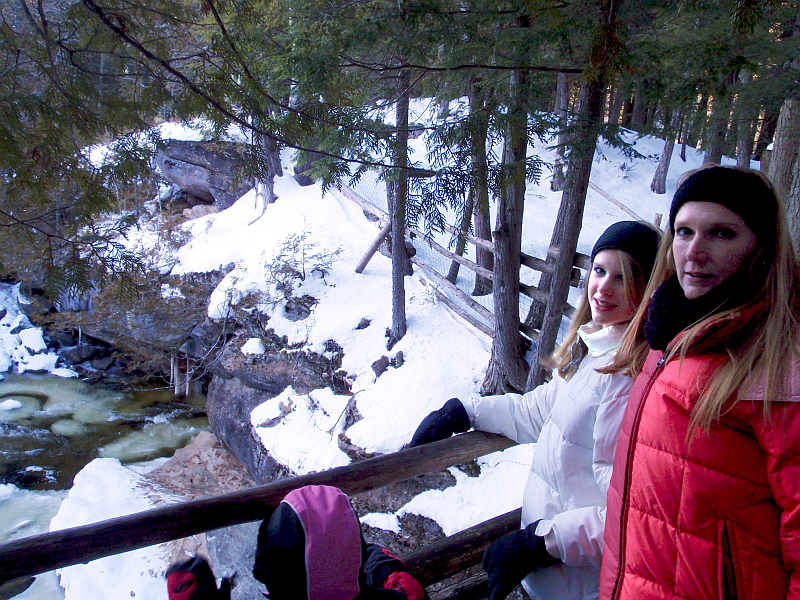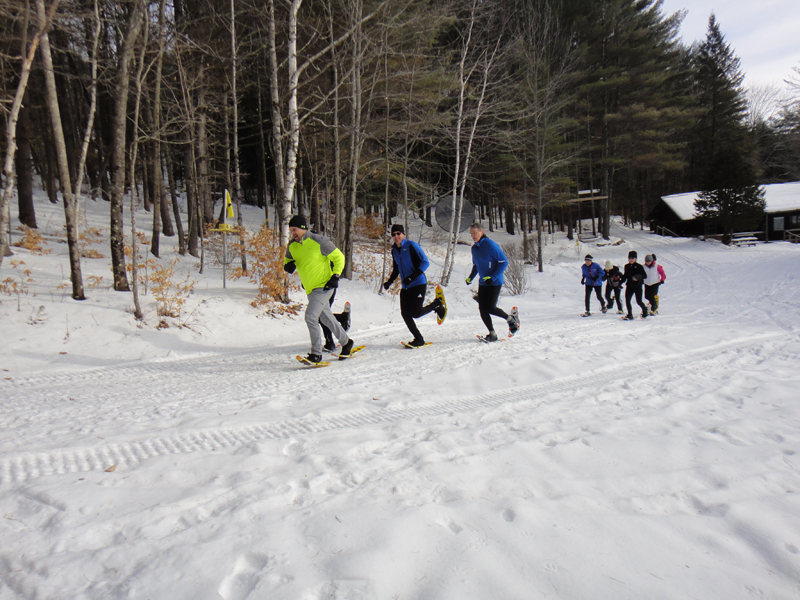 SNOWSHOE TOURS OF THE STONE BRIDGE CAVE ENTRANCE AND SURROUNDING PROPERTY
10am-4pm, Friday-Sunday
Monday-Thursday available for GROUPS (15 or more) by PRIOR RESERVATION.
Click on for RATES and additional information.
Currently 14.5 miles of trails are available for exploration, including the Natural Stone Bridge, Sawmill waterfalls and ice flows.
Additional geological features including: sinkholes, large glacial erratic boulder, & vertical ledges.
Observe evidence of the local residents : large trees and stumps felled by beavers, small cave dens, & lots of tracks in the snow (deer, rabbits, squirrels, bobcats, coyotes, turkeys, fishers, pine martins, and more).
WHAT TO BRING: Good hiking boots (& gaiters if lots of snow), layered clothing, hat/gloves, bottled water, backpack or fanny pack.
SNOWSHOES: Bring your own snowshoes & poles or rent them here ($5.00/day).
OPTIONAL "Good idea" ITEMS: Headlamp, cell-phone, 2-way walkie-talkie, compass, whistle.
DOGS: Due to the nature of the trails (some narrow ramps etc), and due to insurance regulations, dogs are not allowed on the trails.
WHEN TO ARRIVE: DAY PASS - Plan on walking at 1-2 miles/hour, so if you want to explore most of the property, please arrive before 1pm. Last tickets sold at 2:30pm.
GET A SEASON PASS for an additional $5.00 (to the day pass admission) and return as many times as you like all season!
Save
Save
Save
Save
Save
Save
Save
Save
Save
Save
Save
Save
Save